The 24 Most Common Causes of Electric Gate Breakdowns In 2022
10 January 2021
If you manage a strata, commercial property or simply own your own home with an electric gate, you'll want to read this article. In it, we've collated our prediction of the most common causes for gate issues in 2022 so you can check your own before it gets to the frustrating and potentially expensive stage of needing a repair.
Listed below are 24 of the most common problems which could prevent your electric gate from functioning correctly. Understanding what is wrong with your gate will assist you when calling a tradesman for repairs. It might also help you in keeping your gates working at their optimum performance level.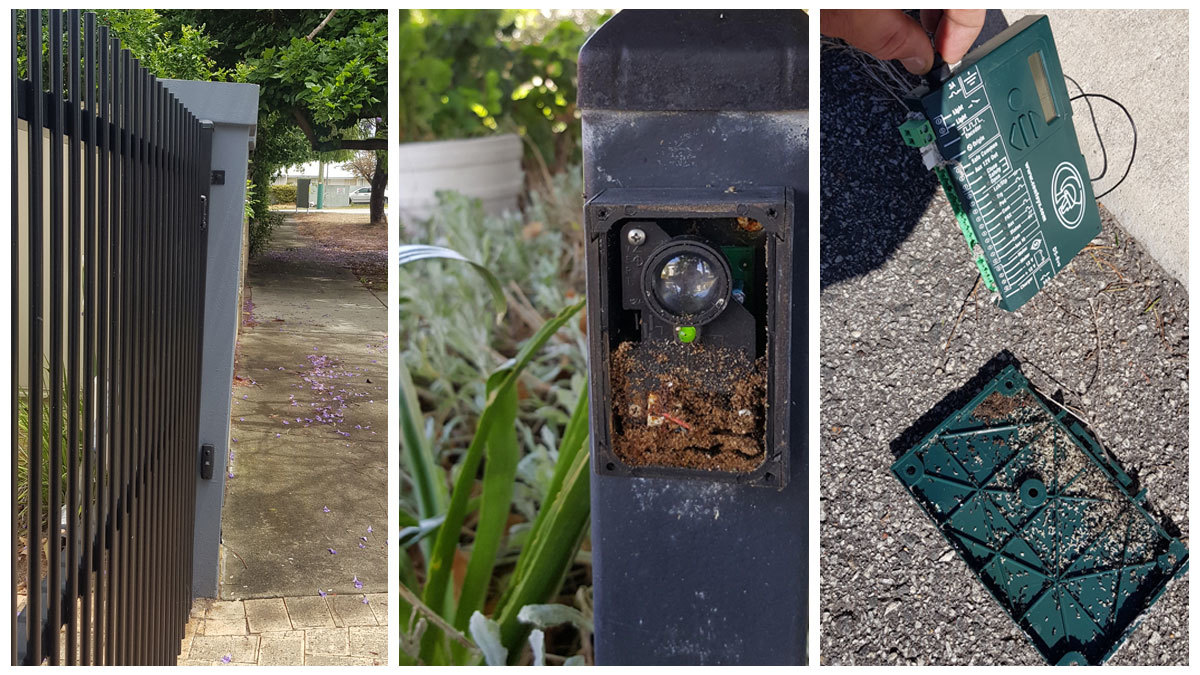 #1 - Structural Issues with Brickwork
Feature/retaining walls can be a contributor to the breakdown of an automatic gate where the post is either attached to or flanking the wall. Over time, brick piers can weaken to the point where they become structurally unsound and require remedial work. If not identified, these can be a hazard and potentially crush or kill should they collapse under pressure or due to neglect.
#2 - Improper Hinge Installation
It is common for us to inspect a twisted gate and discover that the cause is the incorrect installation of hinges in posts or brick piers. If installed incorrectly, this causes the hinges to compensate, which can further damage the posts or piers. This can also result in gear box damages to the motors.
#3 - Electric Lock Not Engaging
There can be a range of reasons for the electric lock to not engage, but the most common is that the gate is twisted or sagging, resulting in it not connecting with the catch correctly.
#4 - Rust & Paint Issues
During manufacture if the correct treatment to the steel work is not completed correctly prior to powder coating, issues with rust and flaking of paint will occur within months of installation.
#5 - Incorrectly Installed Gate Tracks
Telescopic gates can stop working when not correctly installed. This is sometimes due to the gate tracks not being installed correctly, these tracks need to be installed to the millimetre, otherwise the telescopic mechanism will create friction issues.
#6 - Powder Coating Affecting Sliding Mechanism
Particularly in the case of telescopic gates, it is recommended that powder coating is not used on the mechanism, this will only create issues with the smooth operation of the gate and the aesthetics of the system.
#7 - Incorrectly Fitted Electric Locks
Although hard to believe, we have attended sites where an electric gate has been installed, only to discover the electric lock was installed on the incorrect gate leaf. Sometimes contractors do this at the request of a client, but ultimately, it will result in the gate not functioning at an optimal level and will affect the warranty over a faulty part in the future, when the manufacturer reviews installation.
#8 - Missing Lock Mounts Due To Incorrect Gate Specifications
If the location of a custom gate is not fully scoped out, relative to the location, there may be issues with ensuring top and bottom mounted locks can fit to the gate frames - particularly on out-swinging gates.
#9 - Significant Rust Damage Due To Neglect & Incorrect Treatment During Manufacturing
If Metal gates and fence panels are not properly treated or maintained, rusting can lead to them requiring replacement. This is usually the case where cheap options or lack of knowledge is the issue, replacement tends to be the only option in these instances.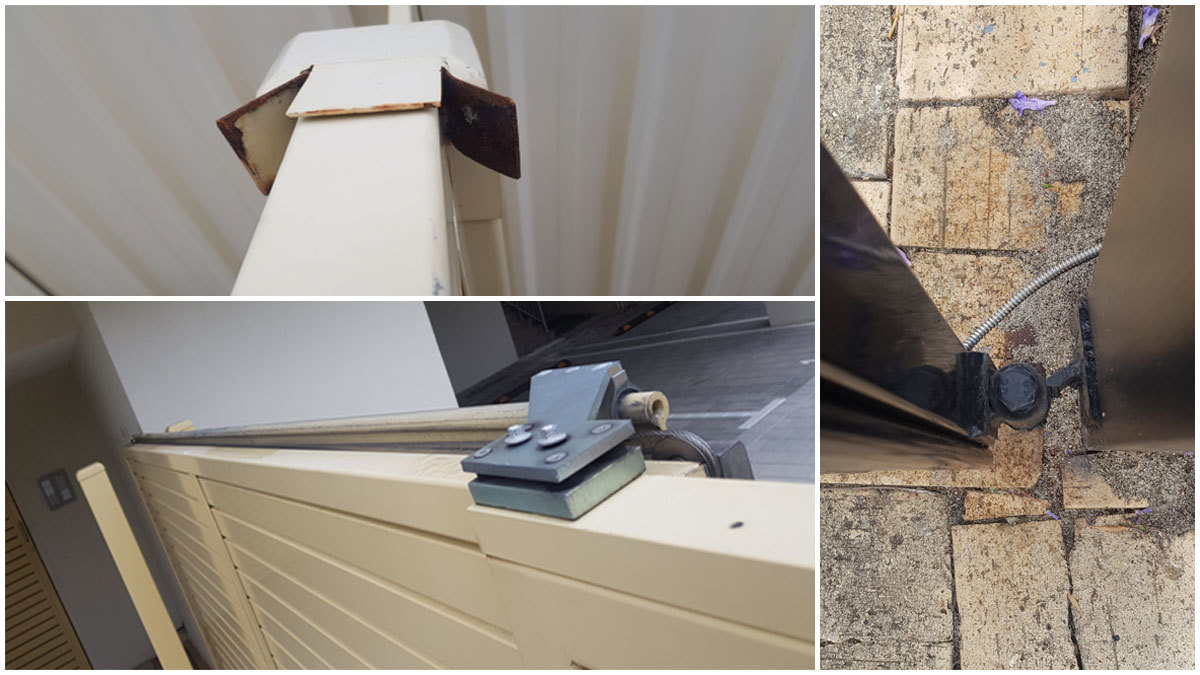 #10 - Automatic Gate Not Designed Correctly Based On High Traffic Flow
At times, contractors may have an existing skill set in a limited number of gate solutions. This can result in a proposed solution being one that works for them but is impractical based on the traffic flow of the location. This also leads to increased maintenance or a complete replacement being required.
#11 - Incorrect Motor Size & Model For High Use Residential Property
Normally, a high traffic residential property requires a motor (in size and type) which can sustain the maximum operations per day. There are instances where contractors install motors which can only handle a maximum of 2-4 operations which is more suitable for a family home. This is appropriate for a single residence but not a strata of 4+ residences and is why these motors need to be replaced with a higher usage motor, built to last.
#12 - Guidepost Installation
When experiencing issues with telescopic mechanisms for an automated gate, one cause can be the incorrect installation of a guidepost not being square to the gate frame. When off-centre, it has the potential to rub or break the cable, as well as collapse the telescopic wheels, creating costly breakdown call outs and repairs.
#13 - Weather Damage
Depending on your location, your gate may be subject to strong winds at different times of the year. The solution to this comes down to selecting the right gate design and motor but, ultimately, if there are constraints in what you can do, the only long-term solution is regular maintenance and remedial work to reduce the damage.
#14 - Rusted Gate Frames
Some gates need to be replaced if the frames are rusted to the point where maintenance has no value. But just because a gate needs to be replaced, doesn't necessarily mean the motors, control box or remotes do. With a thorough inspection, you may only need to replace the gates and safety beam sensors, resulting in a more cost-effective solution for yourself or clients.
#15 - Incompatible Accessories
If you find yourself having difficulty with your remote system or receiver, it is sometimes due to an incompatibility issue. Many people consider Chinese remote systems as a cost-effective alternative for their property but when you have a different receiver you may find they don't play nicely with one another. Therefore, you should always be aware of the impact of getting a cheaper accessory.
#16 - Electric Lock Disconnected
When an electric lock system is disconnected, this can sometimes be caused by jamming issues within the mechanism, or the gate not lining up with the lock catch. A thorough inspection can help you identify the exact problem so it can be remedied.
#17 - Damaged Open & Close Stops
These can be damaged by vehicles and if not resolved, can place undue stress on the gate motor/s. If the stop can be adjusted, that is a short-term solution, but the better option is to replace it with a stronger stop that doesn't have sharp edges. If the steel angle doesn't have a smooth edge to it, it could puncture a tyre or cause injury to someone walking through the area.
#18 - Photo cellular Beam Damage
Through impact, wear and tear or sun damage, the photo cellular beam covers for an automatic gate can crack and require replacement. If it is positioned to be covered from the elements, it may not cause any issues, but it is important to be aware that if the damage is too great, the beams, seals and covers will need to be replaced.
#19 - Tenant DIY
At times, tenants will unintentionally damage gates and attempt to repair or obscure the damage. Some unusual examples are people holding photo cellular covers together by blue tac or tape.
#20 - Control Box Damage
This is usually due to either impact with a vehicle or vandalism.
#21 - Photo Cellular Beam Obstruction
When a gate is not closing, it is sometimes due to the photo cellular beam being obstructed by an object or plant. Once identified, the easiest solution is to relocate the plant or object so the gate can close correctly.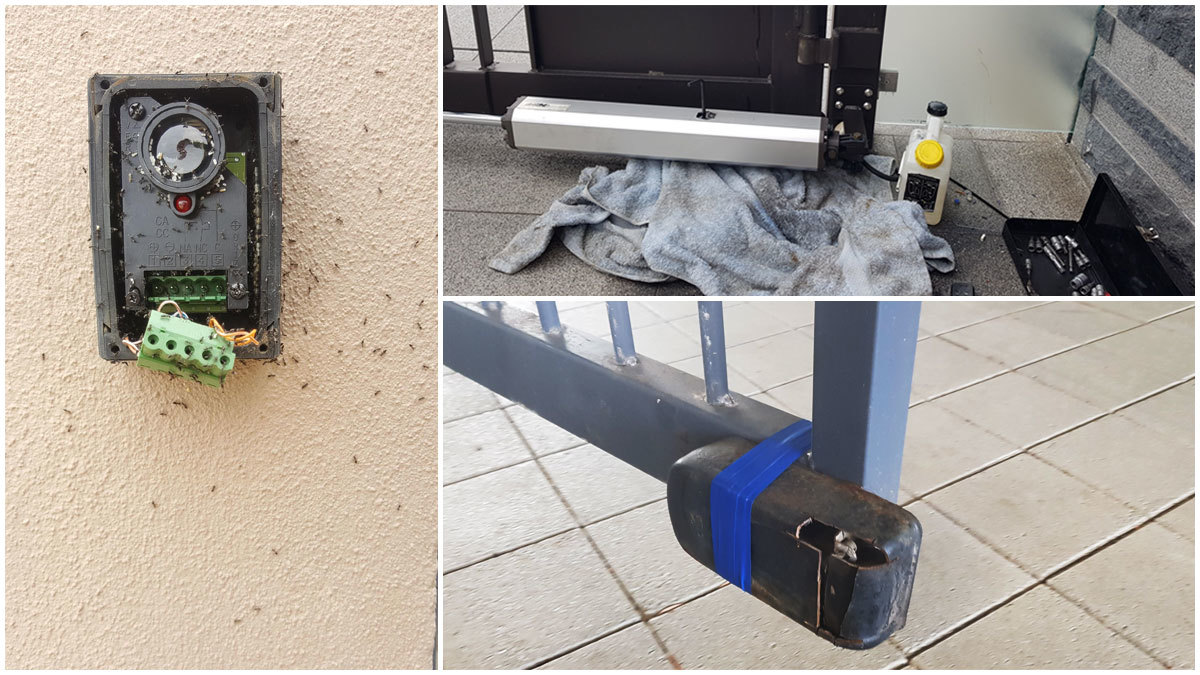 #22 - Control Board Issues
At times, when experiencing intermittent shutdowns, the first culprit is the control board. The age of the control board can be the reason, with relays sticking and not firing when the remote signal is received. This can be resolved by replacing the control board - particularly if it is the original part at the time of install. But when that isn't the case, the cause can be a transformer, which shuts the board down and results in the gate being stuck open. The solution to this is usually the replacement of the transformer if the gate continues to fail.
#23 - Pedestrian Gate Damage
Self-closing gates can also be self-damaging if not set up correctly. An example of this is where the self-closing spring fails to work properly and begins damaging the aesthetic or function of a hinge post. Sometimes, the simple solution is the removal of the spring itself, and to come up with another solution.
#24 - Noisy Motor Gearbox
If your motor gearbox is making a slight noise, it is likely because the motor has been installed at an incorrect angle or is out of alignment. This angle can cause the gates to close at an angle where they will miss the closing stops, resulting in the outside sensors being triggered so the gate continuously reopens. The solution is to install a solid ground stop and extra steel work to the bottom rail of the gate.
In conclusion, knowledge is power
Having the knowledge to understand how your gates should operate, and (if they don't) what could be the problem, is key. This will help you to identify the issue early, thus avoiding downtime and costly repairs if left too long. Hopefully, now you know what to look for and can stay ahead of the curve.
If, after inspecting your automated electric gate, you uncover a few issues which require professional attention, AGM Automation offer an Electric Gate Maintenance Service which can help you get your gate into working order - and keep it working! Simply give us a call on (08) 9244 8899 or email [email protected] if you have any questions.